Al Sabah family tree by Lt Col Knox
Knox's family tree of the Al Sabah
The Al Sabah pedigree drawn up by the first British Political Agent in Kuwait, Lt Colonel Stuart Knox,1 in April 1908 is considered to be the most authoritative family tree of Kuwait's ruling family. It was prepared in cooperation with His Highness the former Emir Shaikh Mubarak Al Sabah the Great, the founder of modern Kuwait. In his report to the India Office, Knox wrote that he had prepared it with the help of the Shaikh which I consider is the best and up to date pedigree I have ever prepared. Knox was a punctilious man, a fine Arabist and a reliable informant and observer2 and someone who had travelled widely in the region and knew the Arab tribes well.

Alan Rush writes that When Knox was making his tree, Kuwait was a small town in which everyone knew everyone else and it is most unlikely that he made any serious error especially as he was guided by Mubarak I who knew exactly who were, or were not, his relatives. Thanks to his help it seems that, apart from details concerning the earlier generations …, Knox's tree is more reliable than any other source.3 Sabah Duaij Al Sabah (Sabah Al Suq) and Fadhil and his brother Duaij Salman Al Sabah (commander of Hamdh battle) are recorded on the pedigree as relatives of His Highness former Emir Shaikh Mubarak Al Sabah the Great.


Although considered the most authoritative and reliable pedigree of the Al Sabah, Knox was not the first British official to provide a pedigree of the Al Sabah. Fifty years earlier, in 1854, his predecessor as Resident of the Persian Gulf, Captain Arnold Burrowes Kemball, had also drawn up the Al Sabah family tree (known as the Bombay report). He describes Salman bin Sabah bin Duaij (the former Minister of Justice's grandfather) as "cousin of chief [Emir Jaber I], second degree, age fourteen years".



Knox's pedigree was used by subsequent British and Kuwaiti officials such as John Gordon Lorimer, the Political Resident to the Persian Gulf in his Gazette of the Persian Gulf, Oman and Central Arabia (1915) and Lt Col Harold Dickson in both his The Arab of the Desert (1949) and Kuwait and Her Neighbours (1956). Lorimer visited Kuwait around the time that Knox was drawing up the pedigree in conjunction with Mubarak and can be considered to have had an understanding at first hand of the Al Sabah pedigree. Dickson, Political Agent to Kuwait from 1929-36, and who had a deep knowledge of the country, reviewed Knox's pedigree and did not see fit to change it.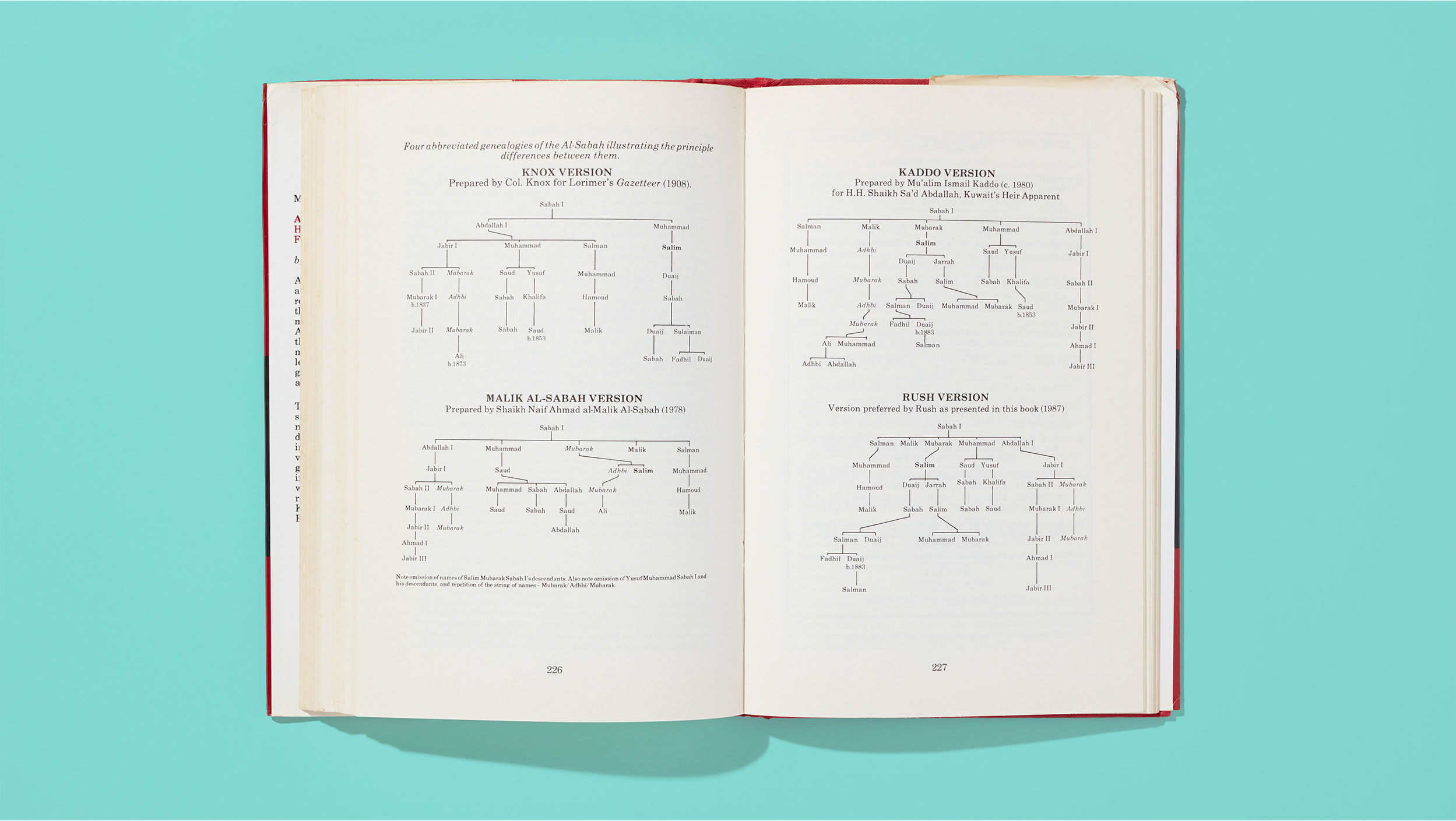 The Knox and Dickson pedigrees were also used by Mahmoud Qala'ji4 in his book Modern Kuwait (Al Kuwait Al Hadetha) (1955). The pedigree was drawn up with the help of Kuwait's first Minister of Education, Shaikh Abdullah Al Jaber Al Sabah, and was published by the Kuwaiti Publications Authority, headed at the time by His Highness the former Emir Sabah Ahmad Al Sabah.

Whilst Knox's pedigree is authoritative, it is not, however, without error as regards the earlier generations, principally his confusion over the number of sons that Sabah the First had (see the section on Mubarak al-Sabah). Later family trees of the Al Sabah have corrected this error, notably the family tree, drawn up in 1980 by Mu'alim Ismail Kaddo5 for His Highness the former Emir Sa'ad Abdullah Al Sabah, when Crown Prince, and Alan Rush, who has produced the standard work on the Al-Sabah genealogy, Al-Sabah History & Genealogy of Kuwait's Ruling Family 1752-1987.6